Kevin May's Thirty Year History on the Stage Taught This Deacon to Swing, Any Style of Music!
*High Energy, High Style, Saxophonist's Trademark!
When he first started playing the saxophone at age nine, Kevin May could only imagine what it would feel like to play before a crowd of 100,000 people, but it was a challenge that would become a major life goal. From elementary school band to the Oakland Bay Bridge with Roomful of Blues and a crowd of 120,000, Kevin May reached that goal and in the effort set a new goal: to bring that level of entertainment home to the Midwest.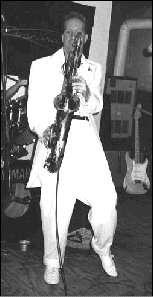 In his early years as East and West coast musicians traveled through the Midwest, May studied them closely. He started to recognize what he could incorporate from these acts into his own personal style.
Kevin May also immersed himself in music from the saxophone's colorful past . Men such as Coleman Hawkins, Ben Webster, Eddie "Lockjaw" Davis, Lester Young, and it was during these forays into saxophone history that he found the one player who would change his life and musical direction forever, Red Prysock. Prysock played with a ferocity and imagination that he had never heard before. When Red Prysock played it was not a saxophone it was a Blast-O-Phone. Once he'd heard Red play, as Kevin would tell it later, "I knew how I wanted to play!"
During this time he became acquainted with several other saxophonists from around the country who had been influenced by Prysock. Roomful of Blues' tenor front man Greg Piccolo, had befriended him during a stop in Wichita, KS in 1986 and the event would prove to be the beginning of a relationship that would eventually lead to his joining Roomful Of Blues in 1998.
Frequenting the Midwest was Texas Tenor Ace Johnny Reno who brought his Sax Maniac show to Wichia on a regular basis through much of the 80's and the two saxophonists soon struck up a musical friendship that continues to this day. As May explains, "Red showed me how to sound and Johnny showed me how to perform. I have never seen Johnny not dressed to the nines either on or off the stage. Class is a full time job and he handles it well. When Johnny Reno hits the stage you HAVE to watch." May would later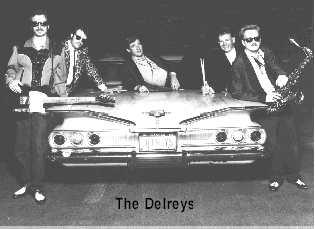 join Johnny Reno and the Sax Maniacs for several shows throughout the Midwest.
The Year 1986 was also a pivotal point for Kevin as he began teaching guitar at Wichita State University and would teach there for the next 10 years. A guitarist since the age of 10 Kevin had been teaching locally since 1983 along side guitarist Craig Owens at C Major Music in Wichita. Owens, who led the guitar department founded by famed Jazz guitarist Jerry Hahn had shared a studio next to Kevin at C Major Music and asked him to join him at Wichita State.
After playing sideman for many years, including a stint with well-known Midwest band The Delreys, whose self-titled debut album in 1988 featured the saxophonist prominently, he stepped out front with Kevin May and The Deaconairs. He chose the name to honor the saxophone greats of the past, who were called the Deacons of Swing. "I was young and eager to try all the ideas I had stored from many years of watching great acts." The Deaconairs stayed together for several years playing around the Midwest and proved an invaluable experience for the young bandleader.
About three years into the Deaconairs project May received a call from another local band that had been hired to tour with fifties legends The Coasters and they needed a saxophonist. Kevin May, always looking for a new challenge, decided to accept the job with The Benders, and put the Dea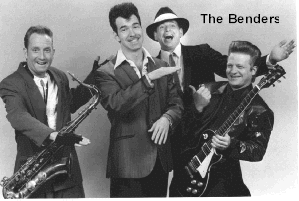 conairs on hold for what he thought would be a short time.
The Benders were a four-piece oldies band who specialized in fun. The music was light-hearted and the banter was over the edge! In The Benders the emphasis was entertainment, fun and dancing! .
Kevin May soon brought his flair for fashion and stage presence to the band and the combination proved to be a winner. Over the next several years The Benders went from a local band to a regionally known 50's & 60's show band. With one of the highlights being May's forays into the crowd honking and squealing in the finest tenor saxophone tradition. Kevin May now played his own Blast-O-Phone!
In the spring of 1994, May's tenure with the Benders was interrupted by a phone call from Greg Piccolo. Piccolo was leaving Roomful of Blues and asked if he would be willing to take his place on a tour with Canadian Ro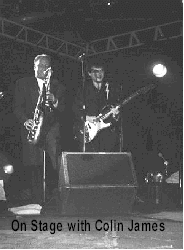 cker Colin James. James, one of the top pop artists in Canada, had made a record with Roomful that was on the pop charts and a massive tour had been planned before knowledge of Piccolo's departure. May accepted and headed off to Canada to spend time on the road with one of his favorite bands. He had known since playing with the band in Wichita in 1986 and later in Kansas City and New York City that he would love working with Roomful of Blues
After a successful tour the saxophonist headed home to resume touring with The Benders, but the seeds had been planted. Kevin sensed that his time with The Benders was drawing to a close and started to think about The Deaconairs again. But all thoughts of The Deaconairs were put on hold in January of '98 when he received a phone call from Bob Bell, manager of Roomful of Blues asking him to join the band full time. After consulting with his family, the Mays uprooted and left for Providence, RI and a new life on the East Coast. Kevin's wife, Jean, said, "There was no question what we would do if this came up. He had worked for it all his life."
There were many changes in store for the family, including finding out in late January that they were expecting a child later that year. Life in Roomful of Blues was fast paced exciting and challenging. With Roomful, the saxophonist was doing the things he had always dreamed of back in the Midwest. He recorded "There Goes The Neighborhood," the band's latest recording for Rounder Records and played major blues venues all over North America including Buddy Guy's, BB King's, the House Of Blues clubs and May's personal favorite Bimbo's in San Francisco.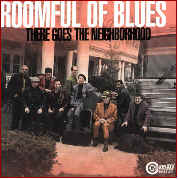 Touring Canada, the Caribbean, and the major blues and jazz festivals of Europe, he was privileged to play with some of R&B's greatest musicians. He appeared with The Blues Brothers Band, The Memphis Horns, The Gregg Allman Band, Wilson Pickett, Ike Turner, James Cotton, Ronnie Earl, Duke Robillard and even Funny man Drew Carey! One very special moment for May was a backstage meeting with Ray Charles and shaking the hands that have shaped so much of the music we hear today.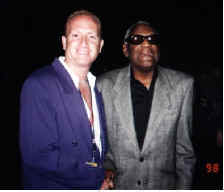 As the birth of the baby grew near it became clear to Kevin that life on the road with Roomful and starting a new family would not go hand in hand. After the birth of his son in September of 1998 and several more tours, the decision was made. Giving notice to Roomful, Kevin, with his family, came back to Wichita and the re-formed Deaconairs.
"It's funny," explains Kevin, " in Roomful the emphasis was back on music, but I missed the intimate contact with the crowd. It is hard to be intimate in front of thousands of people. I ultimately wanted my own band again and with Roomful on my resume it was a whole lot easier.
Kevin May and The Deaconairs toured and Traveled the Midwest non-stop thru 2004 when the Benders inquired about doing some Shows in the Summer of 2004, Kevin agreed and re-joined the Benders. It was at this time that Kevin decided to refocus his own business plan with the creation of KevinMayMusic. During 2002 Kevin had come to relies that a full time working band was not what he wanted to completely focus on and opened up Blast-O-Phone Studios, a full service project studio in his home ( many of the tracks of the Deaconairs CD's along with all the tracks for The Benders CD "Tune in and Rock" had been recorded there.) 2012 saw Kevin introducing his Sounds of Sax solo show. "My solo show is something I have always wanted to do. I love producing music for others so why not do it for myself." Kevin also continues to teach in his home studio as well as playing with The Benders, The Fabulous Shirtheads, Keefer Madness and the Cool Current Jazz Quintet. " I am able to play in many different settings right now while teaching and recording myself and others in the studio. The plate is full and the menu varied just the way I like it!"