Former Roomful of Blues Saxophonist Fronted Hard-driving Versatile Band
From 1999 -2004, The Deaconairs were setting the pace!
Music Clips From the Deaconairs A Show Review from 1999
Kevin May, regional showman and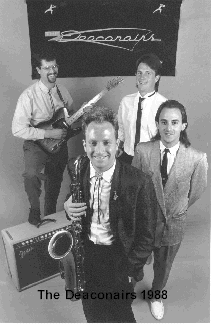 world traveler with Roomful of Blues, having played with such talents as Ray Charles, The Coasters, Ike Turner, and Wilson Pickett, The Blues Brothers Band, and Gregg Allman, brought a complete entertainment package to the stage, including good production as well as good looks and the right kind of music for any occasion. With a four piece line-up, including saxophone and piano/organ, the band could cover many styles with the authenticity you would expect of lifetime dedicated musicians.
The saxophonist's philosophy is simple, "With The Deaconairs I was combining all my musical experiences to bring the most enjoyably entertaining show I could to my audience.
I first formed The Deaconairs in 1988. My desire was to preserve a style of music and performance based on the golden age of stage, when saxophonists were known as the Deacons of Swing and Tenor sax was king. Style and class were the order of the day and looking good was as important as being good. I like all kinds of music and I think music is food for the heart and soul, and just like at the dinner table I don't want to eat the same thing night after night, but when I do eat I like it cooked to perfection!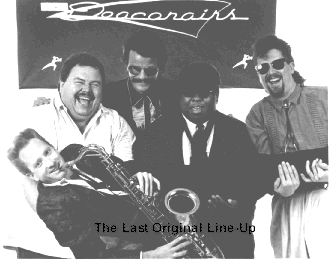 The last line-up of the band in my opinion was the best to date. Original Deaconairs guitarist David Keller returned to the band in the summer of 2001. David's soulful vocals and rich guitar heritage add new depth and character to the band. Drummer Don Stewart from Topeka, KS rounds out the rhythm section.
Keyboard / organ player Howard O. Bedient is a gifted and well rounded stylist, from Fats Domino to Floyd Cramer to the stylings of Bill Doggett, Jack Mcduff and Jimmy Smith, Bedient covers them all making him an invaluable asset to The Deaconairs' style of "every style."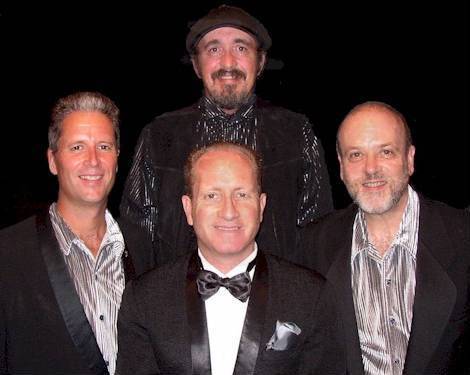 At Kevin May & The Deaconairs' musical dinner table you served served plenty of showmanship, class, and style. You wouldl find Elvis sitting next to Red Prysock in conversation with The Platters and Jerry Lee, sharing the table with James Brown, Wynonie Harris, and Booker T and the MG's. At the same table the next night you might find Roomful of Blues, Wilson Pickett, Johnny Reno, and Freddie King, along with Chuck Berry, The Champs, Count Basie, Glenn Miller, Buddy Johnson and Fats Domino. With the Deaconairs line-up our menu offered many tempting musical morsels to satisfy your palette. You were cordially invited to dine, dance and romance with Kevin May and The Deaconairs.