Music Education with Kevin May
Are you considering Saxophone, Guitar or Bass or Piano lessons for you or your child? Kevin May has students of all levels and ages with one thing in common, a desire to learn. It is never too late or too early to start enjoying the gift of music in your life.
Kevin has been teaching in the Wichita area for over thirty years, has toured nationally and internationally. A lifelong working musician, student and educator, as well as having taught guitar for 10 years at the internationally acclaimed
Wichita State University School of Music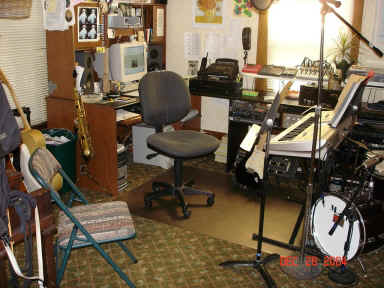 Parent Information Center:
General Lesson Information Frequently Asked Questions
Parents Guide to Music Lessons Practice Tips
Students Find Everything You Need
Drum Beats, On-line Metronome, Practice Songs and More...
at: Lesson Central
The Kevin May Advantage:
A life long musician Kevin has experience playing in Concert Bands, Marching Bands, Orchestra's, Rock Bands, Swing Bands, Big Bands, Jazz Combo's and Duo's, as well as having played and participated in Jazz and music festivals across North America and Europe.
---
Equipment & Technology:
Kevin has the latest guitar, studio and teaching equipment and software available to all students.
Guitar and Bass students:
Will have their own state of the art Guitar / Bass processor for their convenience in a surround sound studio.
Saxophonist's
Kevin has played all the Saxophones extensively, choose Soprano, Alto, Tenor or Baritone instruction. Kevin is well versed in all styles of playing from Classical to Rock & Roll.
Unique Learning Environment:
With the wide range of studio instruments available the student can be "in the band' while in their lesson!
Easy Scheduling
Monday thru Thursday lesson times available 5pm - 8:00pm
---
All Lessons taught in a relaxed home environment with a centrally located convenient location, located just east of downtown Wichita with quick Highway access. Parents and siblings are welcome to relax in a comfortable home environment, during lessons.
Saxophone * Guitar * Bass * Piano * Music Reading * Improvisation * Arranging Performing * Music Promotion * The Music Business
316-652-7358