Reviews
The Wichita Prospector
Band Beat ( 1999)
Eventually, East and West coast trends converge in the Midwest, and thank God they do! The Recent revival of swing is getting a hearty Amen! From fans who remember the music of the big bands, and introducing a new generation to the sounds that survived the Great Depression, warmed the hearts of men and women fighting on foreign soil and provided a backdrop for those that kept the home fires burning stateside. The Big Band Era was the heartbeat of America way back when, and as they say...everything old is new again!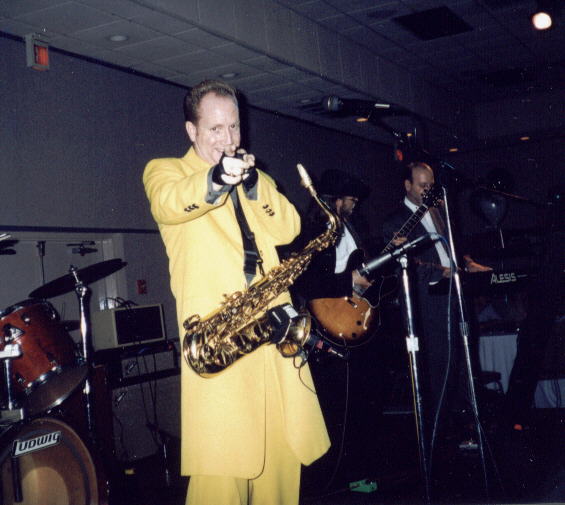 Kevin May and The Deaconairs picked up the torch in March of 99 and have been wowing audiences with a blend of rock, swing, blues and jazz they describe as "High Energy, High Style." Saxophonist, Kevin May has drawn on his years of playing with people such as Johnny Reno, Roomful of Blues and The Benders to front former Blues Farm veterans George Graybill ( Bass), Don Stewart ( drums) and Scott Riggs (guitar) and keyboard master Howard O. Bedient. This is a polished, well rehearsed group that believes hard work pays off. The extra effort is evident in the bands dress and stage presents.
Though abundant in vocal talent (four harmonies) the band does just as many instrumentals that showcase their individual musicianship. May's renditions of Red Prysock's Fruit Boots, Harlem Nocturne ( known affectionately as wife Jean's song) and Rudy's rock take him from center stage into the audience. whether blowing bittersweet and sensual on Nocturne or Jumpin' on Rudy's rock, May proves he has the chops. Particularly appealing are Rooster Walk (another Prysock gem) reminiscent of Bill Black and Little Queenie, about which May adds," They don't write'em like that anymore."
Stewart has been drumming since childhood and after two years of college he abandoned the degree t rack in favor of performing. Riggs has known May since the mid-80's and replaced the Deaconairs original guitarist David Keller. Trading riffs with May, Rigg's fretwork is superb.
But, the true pearls in Kevin May and The Deaconairs' ocean of material are the tunes familiar to big band enthusiasts. Moonlight Serenade, Benny Goodman's Sing, Sing, Sing, with the signature tom-tom stylings of Gene Krupa ably captured by Stewart and accented by May's sax. Glen Miller's in The Mood rides a swell of nostalgia as May teases the audience with muted phrasing before surging back for a big finish.
May's philosophy also comes from the old school of entertainment. "If you look good you will feel good, and if you feel good you'll be good. My goal is to put out good music... with class and style... where people can 'Rag Down' (dress up) to go out."
Kevin May and The Deaconairs are building a following with their own web site, merchandising and showmanship. This is a class act you don't want to miss!
The Prospector is a privately owned weekly advertising and entertainment magazine.