This latest Deaconairs recording comes at a momentous time in my life and career. Returning to the Midwest after the birth of my son Taylor, and after touring the world with Roomful of Blues, soaking up it's music and culture, this recording was a homecoming of family and friends both on and off the stage.
I first formed the Deaconairs in the late 1980's. My desire was to preserve a style of music and performance based on the golden age of stage, when saxophonists were known as "Deacons of Swing" and Tenor sax was "King". Style and class were the order of the day and looking good was as important as being good.
This version of the Deaconairs was a hand-picked combination of old and new. I was lucky enough to get exactly who I wanted and the result is captured on this recording. This line-up of the band was less than 5 months old when this was recorded. Some may say it was premature, but I wanted to catch the group in it's infancy, and like my son I will document and enjoy it's growth every step of the way. I hope you do too.
Recorded by: Cornerstone Studios Mobile truck
Recording Engineers: Steve Falke and Chris Glanser
Produced by: Kevin May and Steve Falke
Executive Producer: Kevin May
Mixed by: Steve Falke and Kevin May
Graphic Design by: R. Jean May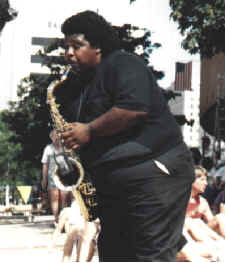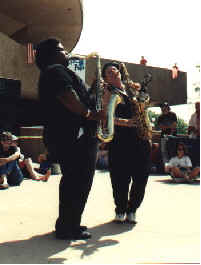 "Live at The Plaza" is dedicated in memory of Darryl Hawkins
September 28, 1961 - November 3, 1994
Back to: Merchandise Song List